Comprehensive array of high speed interconnects including quadrax and twinax connectors. We manufacturing to the following protocols: Fibre Channel, Ethernet Firewire, USB, DVI and InfiniBand. Quadrax and twinax contacts are designed for transmission of Ethernet, high speed signal in harsh environments where integrity and reliability are essential. Consisting of an outer shield and either two (twinax) or four (quadrax) inner contacts, the high speed copper contacts can be setup in a number of formats including MIL-DTL-38999, ARINC 600, MIL-DTL-83527 and D Sub-miniature.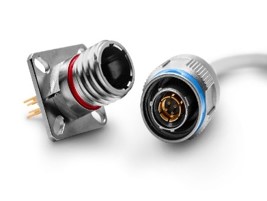 Smiths Interconnect High power interconnects are offered in ruggedized, single and multi-way formats with power up to 1,200 Amps that provide excellent performance in harsh environment conditions. Employing Hyperboloid, the original superior performing contact technology, for use in demanding environments where reliability and safety are critical.
New HBB Series Single Pole Connectors:
High shock & vibration immunity for exceptional performance in harsh environments.
5000 mating cycles.
Gender reversible plugs & receptacles.
Simple push lock to mate & quick release latch to un-mate design.
Low resistance hyperboloid contacts minimize resistive losses.
360° EMI/RFI shielding as standard.
Available in 3 polarizations.
Sealed IPx7 and IP6K9K when mated.
RoHs compliant black zinc nickel finish aluminium shell.
Single Pole:
Compact interconnect rated at 300A in size 17 shell & 500A in size 21 shell.
5 Pole:
5 x 60A power line contacts in a compact size 21 shell.
2 'last mate, first break' high voltage safety interlocks, each rated at 7A DC or RMS.
Size 8 power crimp contacts & size 16 safety interlock crimp contacts.
Power contacts rated at 1KV DC or AC peak.
Crimp contacts supplied separately.
L Series Connectors:
Mixed signal, power, and coaxial modules. Provides up to 200 amps power.
Cable to chassis and rack & panel; Plastic backshell with strain relief and half turn quick disconnect jackscrew.
Float mountable for blind mating.
Configurations compliant to EN45545 standards Different signals.
High reliability contact technology.
Several locking devices and hood are available.
LSH Series Connectors
1 to 6 way 6mm contacts with 200 amps per contact.
Very low mating forces.
Radial float .049" (1.25mm).
Threaded terminals.
Blind mate capability.
M40/M58 Series Connectors:
Heavy drive and high current applications.
Reliable contact technology.
360° EMC shielding.
Shell Material: Aluminum, Alloy.
Transformer Series Connectors:
High density modular solution.
High power, up to 300A / 500A.
Straight, angled and shunt termination styles.
Cable section size from 25mm² to 50mm² / 240mm².